The
V-wedge wire pipe
is made of pipe wire. All welded wedge wire pipes are made of two elements - an outer V-shaped wire and an internal longitudinal bar.
The V-shaped wire is spirally wound around a cage made of a longitudinal rod. The intersection of the profiled wire and the bar is welded to each other by electric resistance welding. The welded joint is very strong due to resistance welding.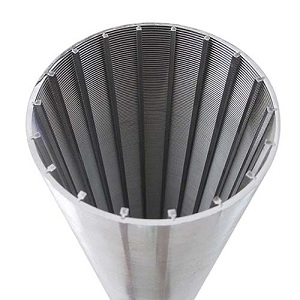 The "V-Wire Filter" is a highly accepted modern technology in rainwater harvesting. It eliminates the traditional filtration system, saves valuable space, and saves filter construction costs and build time. The scientific design helps to clean and save on maintenance costs very easily.
"V" shaped wedge wire pipe features and advantages
Easy to install: save money, time and energy for a small or large roof area.
technical details :
Slot size 0.15 mm to 10 mm
The length is 0.2 square meters - 6 square meters.
Material - SS 304/316/316 L or LCG or according to customer requirements
Terminal accessories - according to customer requirements.
Our
V-wedge wire filter pipe
can be custom size, material, and more, and the drawing we can design, so please contact us now.