Golf Course & Turf Irrigation Filter
Recreational green fields like golf courses need to be maintained in a certain level of quality to make them appealing for people to come back.

Attaining a smooth grass surface on golf fields isn't easy. The type of grass, cutting height and mowing frequency, fertilizing, and sand topdressing are all very important steps to achieve that perfect look. One of these important key steps is a properly working irrigation system. Uninterrupted operation of the irrigation system requires proper water filters.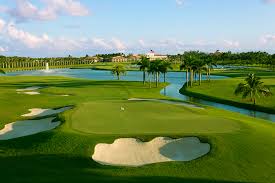 Landscape irrigation systems of all varieties require safeguards that prevent equipment from clogging. Whether it is drip irrigation, low-pressure sprinklers, fixed pattern, or high-pressure impact (including rain gun) sprinklers.

When sprinklers and drip equipment are unprotected, dirt and debris collect in tubes and sprinkler nozzles, quickly disrupting irrigation patterns.

Regardless of sprinkler head spacing, clogged nozzles can cause uneven coverage leading to brown patches and severe damage.

Wedge wire screen or the stainless steel filter element used in the Golf Course Irrigation can reduce the clogging, and have a long life.