Sugar Industry Filtration
As global demand for sugar and cane ethanol increases, so does the number of sugar mills and refineries. In beet or cane sugar mills as well raw sugar refineries filtration is one of the core processes in order to produce high quality and achieve the best possible yields from the raw product.
Sugar mills require highly efficient systems not only to reclaim sugar products but also to recycle process water.

Such as Filtration Process of Sugarcane: Juice Extraction → Filtration → Evaporation → Boiling and Crystallization → Centrifugaling → Drying → Sifting → Packing→ Storage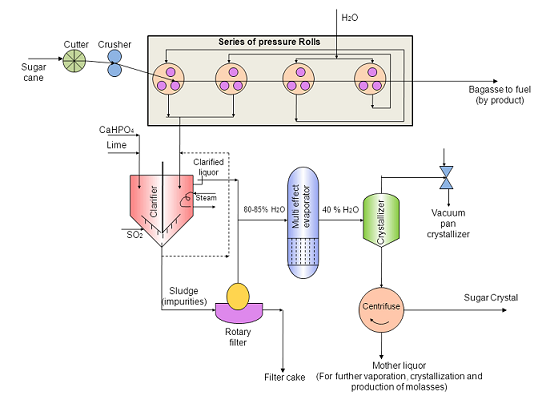 In the past, in the process of sugarcane crushing and sugar making, the mixed juice of sugarcane contains a lot of crushed bagasse and sugarcane juice。
In the early 1990s, sugar companies mostly used wedge wire screen panels or sieve bend screen to filter directly, remove the crushed bagasse, separate the sugarcane juice and send it for further filtration, clarification, concentration, boiling sugar, and crystallization to obtain the final product--white sugar.

After 1996, the appearance of the Wedge Rotary Wire Screen was directly applied to the filtration of the mixed juice of pressed sugarcane, and the effect was very good.

In the Sugarcane Filtration process, by removing non-sugar, the purity of sugar juice is improved, its viscosity is lower and its color is reduced which can provide high-quality raw syrup for the following boiling and crystallization. The traditional method employs lime as the clarifying agents, making the mud separate from the clear juice through sedimentation. After that, the non-sugar impurities are removed. In the following filtration, use wedge wire screen and sintered filter Cartridges to remove the precipitate formed and suspended solids.
In the Centrifugaling process, where the sugar crystal is separated from the mother liquor by centrifugal force. The Wedge Wire Centrifugal Basket is the main filter media.

Not only our roots in the wedge wire screen filter industry but also the willingness to customize our filter products for customers' needs. So as to be able to manufacture more rigorous products for the sugar industry.