Sintered powder filter disc is made of titanium or stainless steel powder. It is a new style of material for filtering. It loads stronger heat stress and concussion and can work in a higher temperature and corrupt medium. It can be welded, felted and mechanism machining, and can be regenerated after dirty. They are recommended for the filtration of air or liquid at higher operating temperatures and corrosive environments. The powder sintered filter disc are produced by cold isostatic pressing, which gives high porosity to the material and improves its stability. They can be cleaned easily or back washed, which makes it longer working life.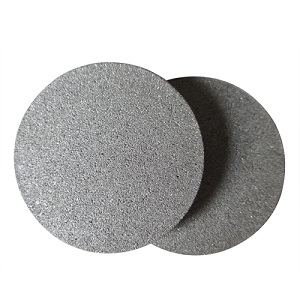 Feature:
Shape stability.
High Filtering Efficiency.
High permeability fiber.
High mechanical strength and good integrity.
Excellent corrosion, heat, pressure refining, and abrasion resistance.
Even distribution of pores catalysis recycling accurate filtering.
Good permeability.
Applied under ultra-low temperature, high temperature.
Reusable after cleaning.
Long working life.
Application:
Steam Filtration, de-dusting.
Water Filtration, oil filtration, food and beverage filtration, chemical filtration.
Oxidizing liquid filtration.
Strong polar solvent filtration.
Decarburization filtration.
Viscous liquid filter.
Corrosive liquid filtration.
Liquid and gas filtration at high temperature and pressure condition.
Solid catalyst recovery.