Wedge Wire Filter Nozzle for Ion Exchang
Wedge wire screen filter nozzle is consist of V-shape profile wire and the longitudinal support rods. Each intersecting point of these wires is fusion welded,so it has sturdy constriction and good mechanical property.

Filter nozzles are used in liquid/solid or gas/solid separation (sand, catalyst, resins, zeolite etc). The design of each nozzle and the exact quantity will be proposed in order to obtain a perfect distribution or collection of flow.

The V-shape section plane can avoid blockage,and make sure of the unimpeded water. The consecutive slot have more open area,and it can reduce the speed of the water entering to aviod the sand entering the screen under the great pressure,so Continuous Slot Wire Johnson Screen can filter sand better.
Advantages of wedge wire filter nozzle:
Great mechanical strength
Highly resistant to abrasivity and vibration.
It can hold more pressure and temperature compared to the perforated sheet screen.
Longer screen life.
Larger useful area than that of the standard perforated sheet screen.
The wedge wire screen can be used in any of INOXPA filters.
The wedge wire screen is assembled to the filter body by clamp, this allows an easy and quick disassembling for cleaning.
It is possible to clean the wedge wire screen with a flow (back flushing).

Our filter nozzles are an excellent technical and economical solution in bringing together a fully welded, strong and highly corrosion resistant structure and with a non-plugging surface.
Many processes utilise a nozzle plate :
Catalytic processes
Ion exchange processes
Sand filters
Activated carbon processes
Filter nozzles DESIGN
Nominal diameter is 50 mm.
The height of a nozzle and the internal diameter of the fitting can be approximated using the following graphs.

Slot entrance velocity nominally 0.2m/s (to be optimised dependant upon the filter media)

By optimising the ratio between the head loss of each component (open area and fitting) we can determine the optimum quantity of nozzles to ensure a perfect distribution or collection without channelling, wall effects, or dead zones.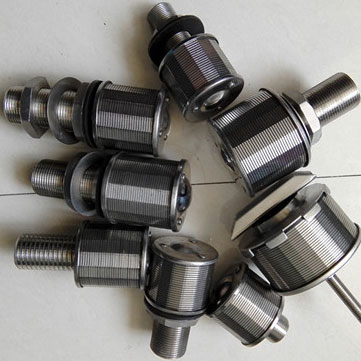 t